The first part of retooling Mizzou's offense was hiring the Fresno State offensive coordinator Kirby Moorewhich the Tigers officially did on Thursday to be their new offensive coordinator and quarterbacks coach.
Moore replaces fellow Boise State alum Bush Hamdan as the quarterbacks coach after Hamdan accepted the offensive coordinator job at his alma mater. Son Eli Drinkwitz'After taking over as the head coach at Missouri three years ago, he also served as the team's offensive coordinator.
Drinkwitz was the main play caller for the team's first nine regular season games and the bowl game this season. During those contests, Missouri averaged 22.5 points per game, averaged 348.5 total yards and went 4-6 in those games. When Hamdan called plays for weeks 10-12, Missouri averaged 32.67 points per game, averaged 433.33 total yards per game and went 2-1 in those games.
Moore spent six seasons at Fresno State with the first five being the wide receivers coach and passing game coordinator before switching over to being the quarterback coach and offensive coordinator this past season.
Moore, who was a wide receiver at Boise State (2009-2013) and is the younger brother of current Dallas Cowboys offensive coordinator Kellen Moore, got his first taste of being a team's primary offensive play caller in the Bulldogs' 31-24 win over UTEP in the 2021 New Mexico Bowl. He kept the playcalling duties when he got promoted last season and helped lead Fresno State to the nation's 53rd offense at 402.8 yards per game in his first year as an offensive coordinator and the team's primary offensive play caller. The Bulldogs also finished 42nd in yards per play at 6.0 and 49th in scoring, averaging 30.6 yards per game. In 2021,
Mizzou would finish 34 spots below Fresno State in scoring offense at 86th, averaging 24.8 per game and 82nd in total offense at 369.9 yards per game this season.
Bulldogs' offensive success vs. Mountain West Conference opponents
Mountain West Teams' defensive ranks in the FBS
Table Name
* Team didn't play Fresno State in 2022.
It's easy to assume because Moore is coming from the Mountain West Conference and not a Power 5 school that the level of competition that the Bulldogs' offense faced on a week-to-week basis was "weak," "unimpressive" or whatever you say 'd like to use to say the competition wasn't up to par with the Southeastern Conference. Ultimately, the MWC doesn't stack up with the SEC, but neither does almost any other Power 5 (Big Ten is top-heavy).
However, the defense played in the MWC was not weak. Fresno State faced four teams with top-50 defenses and went 4-1 in those games (lost the first matchup against Boise State) with the Bulldogs averaging 27.6 points per game. For reference, Missouri went 1-2 against top 50 defenses with losses to Georgia (11th) and Kentucky (12th) and a win over New Mexico State (30th). The record moves to 1-3 when you add in Kansas State's 64th-ranked defense.
Fresno State didn't get off to a great start to the season with the Bulldogs going 1-4 in its first five games, but it's important to note games three through seven were with backup redshirt freshman quarterback Logan Fifewho went 2-3 during that stretch with wins over San Jose State and New Mexico to jumpstart a nine-game winning streak to end the season with a win in the LA Bowl and a 10-4 record.
The Bulldogs didn't play Air Force and its first-ranked defense nor did they face another top-50 defense in Colorado State, and even though they didn't play those teams they still share a conference with two more top-50 defenses including the nation's best.
What to expect from Moore and how it impacts position players?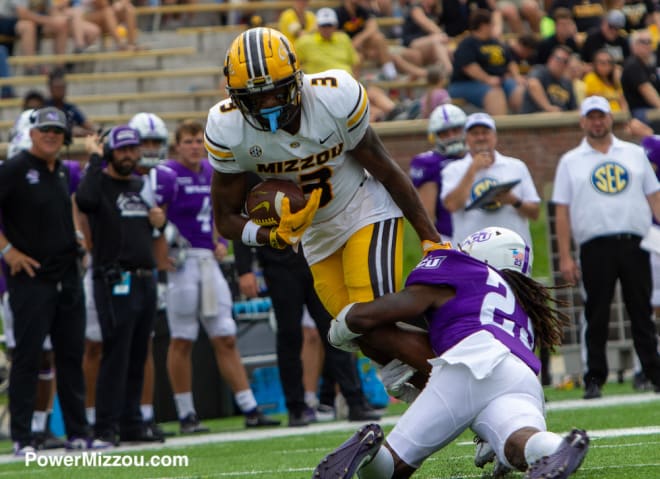 Much like Fresno State head coach Jeff Tedford and Moore's brother, Kellen, Mizzou fans can expect a spread offense with the main emphasis being to get position players the ball quickly and in the open field. So, that means a lot of motion and a decent amount of RPOs, quick screens, mesh, crossing and vertical routes.
This is ideal for Missouri's offense, especially when thinking about its receiving corps. Former five-star wide receiver and Oklahoma Sooner, Theo Wease will be added to the fold and will likely man the x-receiver position with Mookie Cooper allowing Luther Burden III to make the much-anticipated move to the slot. Cooper and Wease on deep crossers, post routes and vertical routes go hand in hand with their speed and deep-play abilities.
Burden's move to the slot will likely help him be even more productive than he was this season. It appeared this past season the team had an abundance of slot wide receivers that forced Burden to play the X-receiver spot on the outside. son, Dominic LovettMissouri's leading receiver in 2022, has departed for Georgia and Barrett Bannister has departed the team after six seasons Burden slides into that role nicely likely alongside Mekhi Miller. Burden isn't necessarily a burner and isn't as fast as Lovett, but he's shifty, elusive, has good vision and has the ability to weed off arm tackles.
In the run game, expect to see more inside zone as opposed to outside zone and stretch runs that Missouri ran this year. The benefit of running this will get the offensive line going downfield, which would help a Mizzou offensive line that struggled for much of 2022 and have a number of wide receivers on the outside to lighten the box.
How have quarterbacks done under Moore?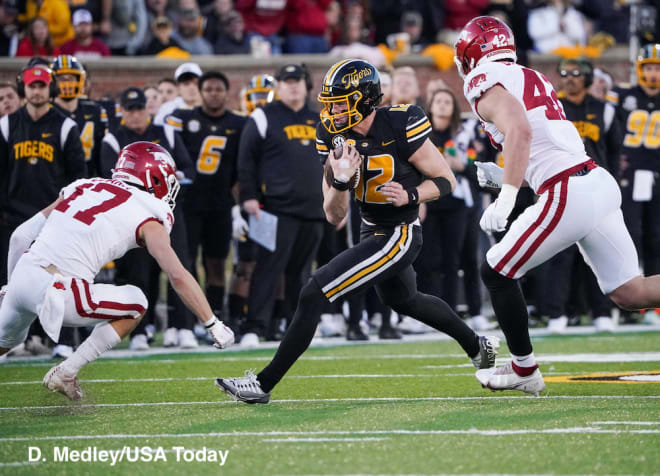 Mizzou/Fresno State QB comparison
For now, the Tigers will be rolling with Brady Cook, Sam Horna four-star signee Gabarri Johnson and walk-on Tommy Lock at quarterback.
Cook went 6-7 and had an up-and-down season and will miss spring football as he recovers from surgery to repair a torn labrum in his right (throwing) shoulder that he suffered during the Kansas State game in week two.
Horn, a four-star prospect from the class of 2021, redshirted this season but will be first in line to be able to build his rapport with Moore along with Lock. Johnson will not be on campus during spring football.
The spread offense benefits this quarterback room because they are all athletic and have the ability to break the pocket and make plays with their legs. Although, Fresno State's Jake Haener doesn't have the running abilities of the Tigers' quarterbacks, he still excelled in the system with his good but not great arm. His 4,096 yards in 2021 were the ninth-most in the nation. So, whoever starts for the Tigers in 2023, whether it be one of the aforementioned quarterbacks or possibly a transfer, will not have to play outside of his physical limits and can still succeed.
The quarterbacks won't have to have an arm as strong as KJ Jefferson or any of the nation's other best deep ball throwers, they'll just have to get rid of the ball quickly, be accurate and let the position players make the plays. Being able to scramble will just be a bonus.
Stay up to date on all the Mizzou news with your premium subscription
Talk about this story and more The Tigers' Lair
Make sure you're caught up on all the Tiger news and headlines
Subscribe to our YouTube Channel for video and live streaming coverage